Resource calculator and recipes for all structures and items
It would be useful if users could quickly look up an item or a structure to find the crafting ingredients required.
Activity
Merged in a post:
All creation
I'd like you put all the creation of Ark, just to know how build all the door, all the wall...
Merged in a post:
Items
Would like to see a list of the items and what it takes to make it much the same as the recipes I always have to run to the smithy or whatever to check what I need I'd like to just be able to check my phone and collect it all in one hit
Merged in a post:
Recipies
This app is perfect on Dinos but how about adding in some Recipies on... Well the weapons armour and the building materials
Walls, turrets ect
Thanks
Merged in a post:
Craftables
I think it would be a great idea to add a craftables features. This would include what materials needed to craft a fabricator, campfire and chemistry bench (every craftables in the game). This would help in PvE when you ask other people whom are higher levels to craft stuff for you. So you know all the materials to build the item before you ask the person to craft it. As you can see in the picture this person is too low of a level to unlock these engrams, so they would open the app and search the unknown item, gathered the materials and ask a player to craft it for them.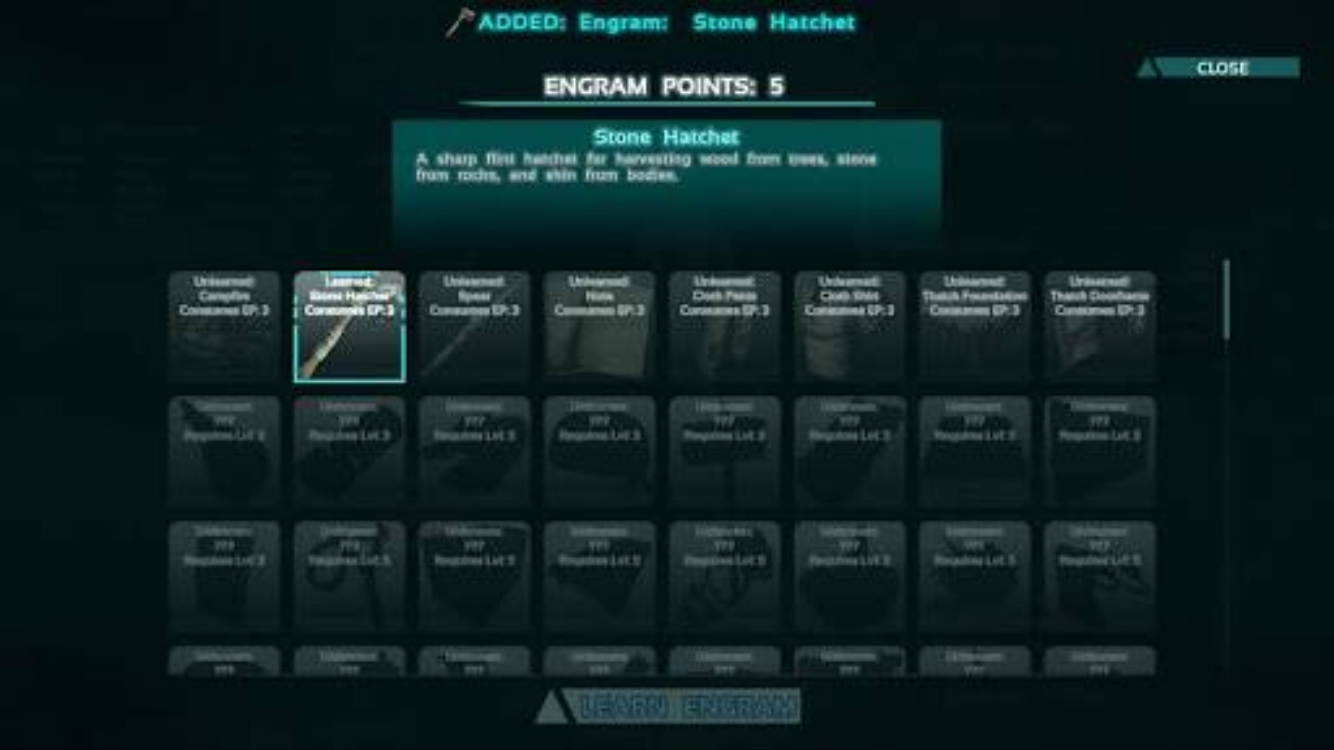 Merged in a post:
Resource calculator
Type in a item thats in ark and it tells you what you need to make it and what you make it with. Ex. Generator (whatever you need) can make in fabricator.
Merged in a post:
Building Calculator
You should add a feature where it tells you exactly how much materials it will cost to build that amount of foundations,ceilings, etc... so like if I wanted to build 5 behemoth gates, it would tell me how much stone, thatch, and wood I would need
Merged in a post:
Add detailed list of items
You should add a section just for all items such as a very detailed description of each item such as weight, damage and things like that. I also think you should add a option to seperate the items and dino's between standard ark and scorched earth
Merged in a post:
Resource calculator
Say I want to make 652 metal foundations, it tells me how many metal bars and cementing paste I will need and if it could break down that even farther like how much metal chitin and stone that would be even better. I realize there are other apps that have this and I can use them but I would love to just use this 1 app. Either way great job great app that's why I had to get the pro version!!! Will always support good devs!!!
Merged in a post:
Build cost calculator
This app is great, I love the hard work you guys put into it and I think I have an idea that will make a lot of people happy, as well as save them tons of time if it's possible to code. Say I wanted to know the resource cost to build a 12x12 metal behemoth gate structure, you input the dimensions of the structure, the kind of material each structure piece is made of, and any additional information (# of behemoth gates/Dino gates/window walls you would like) and the calculator draw up a comprehensive list of all the raw material you would need to complete the structure. For example, with a 10x12 metal behemoth structure my resource cost was roughly 20k Ingot and a bunch of cementing paste, if we had a calculator for that it would make the math a lot easier for preparing a build. Thanks for the consideration!
Merged in a post:
Creating and Crafting List
Details for Material and Spawn Id
Merged in a post:
Resources calculator
Essentially a master list of all resources needed to build something. Useful when harvesting to know how much is needed for that future addition to your base :D
Merged in a post:
Resource Calculator
I suggest a resource calculator. It counts and breaks down all the necessary resources needed to make a structure or objects in the game. It will get quite handy if there is involving large scale building or making
Merged in a post:
Calculator
A calculator for structures and items. How much ressources you need for an structure.
Merged in a post:
Hey I think you should add recipes for building materials as these come in handy when trapping creatures such as metal gates and pillars so you can select how many you need to make and calculate how much of each resource you need (: